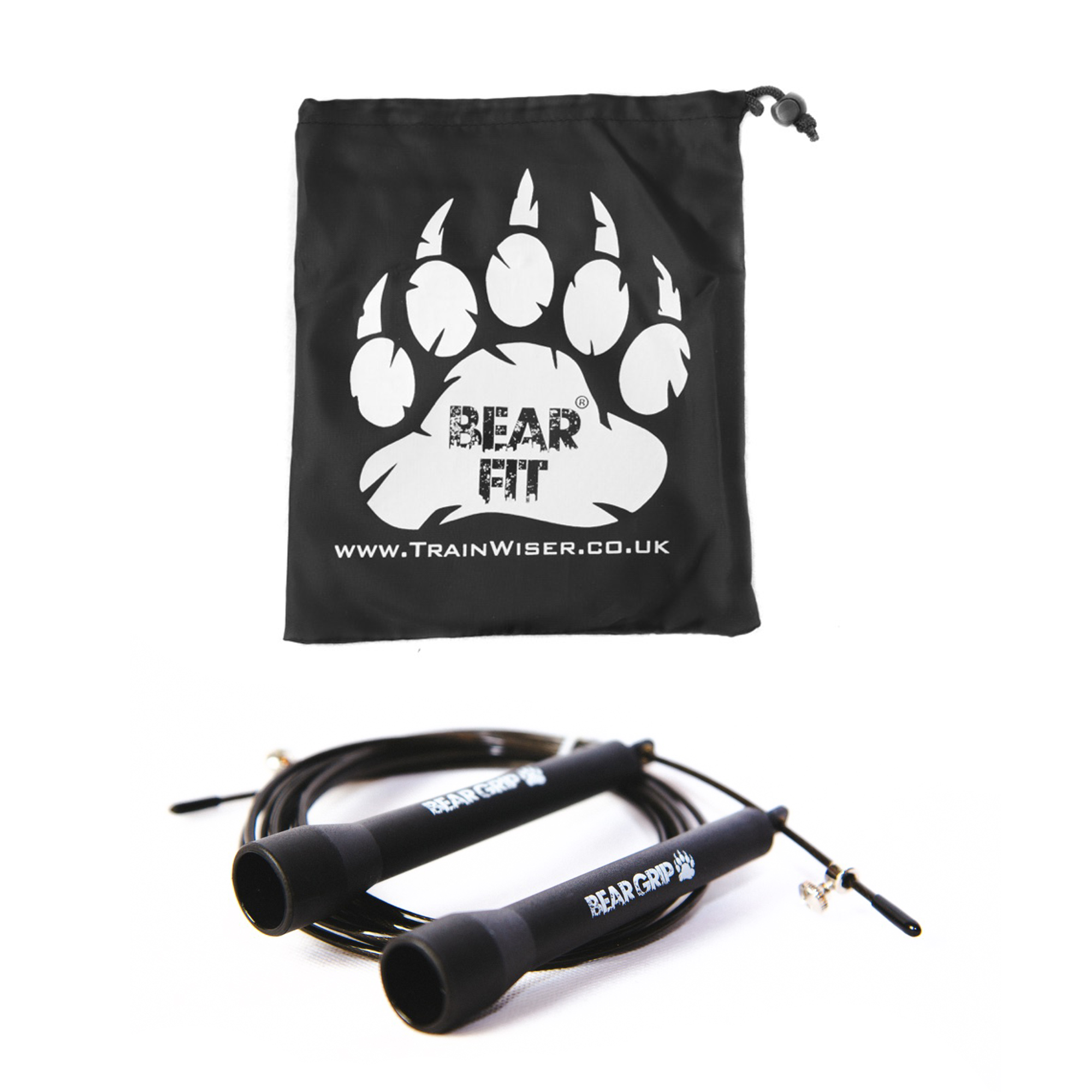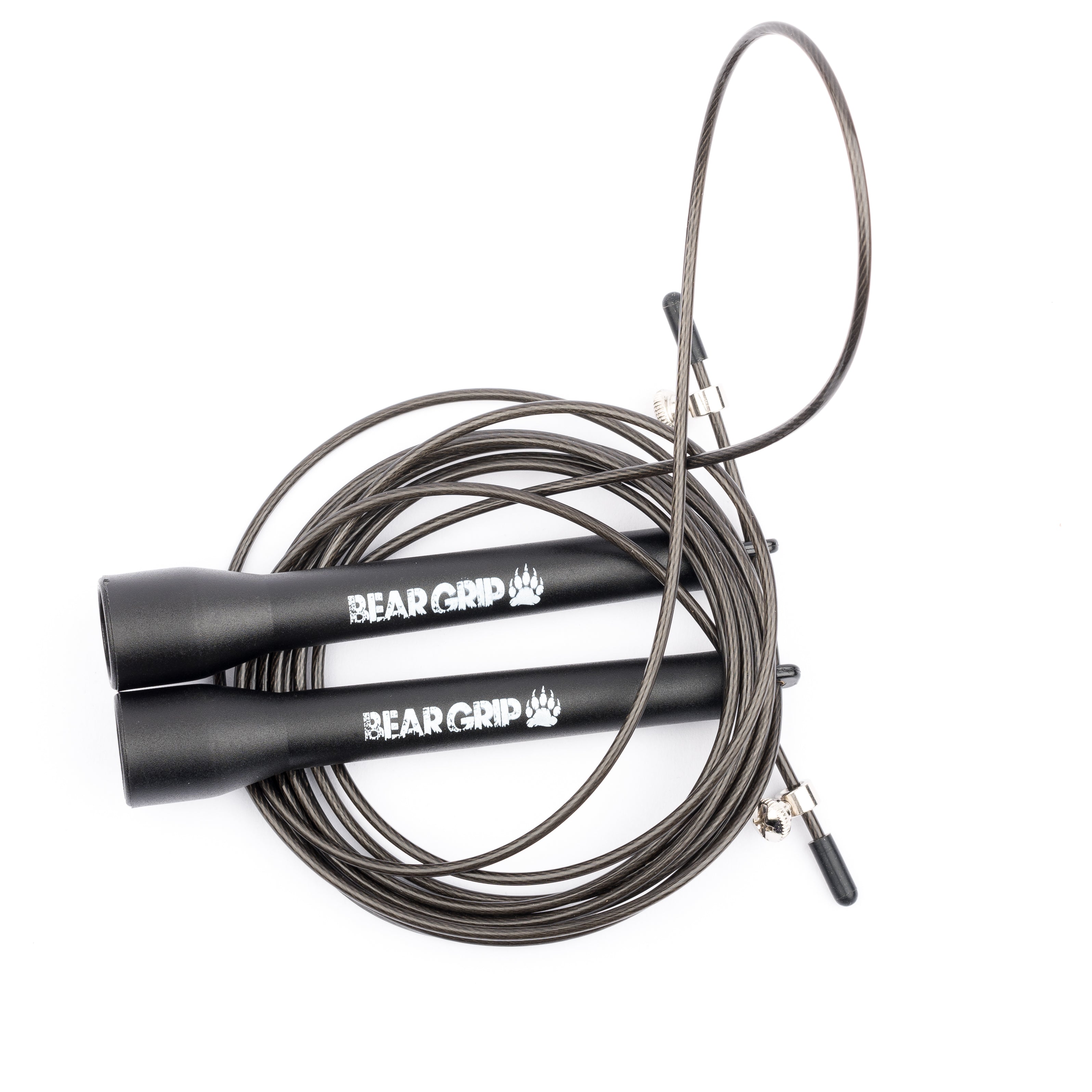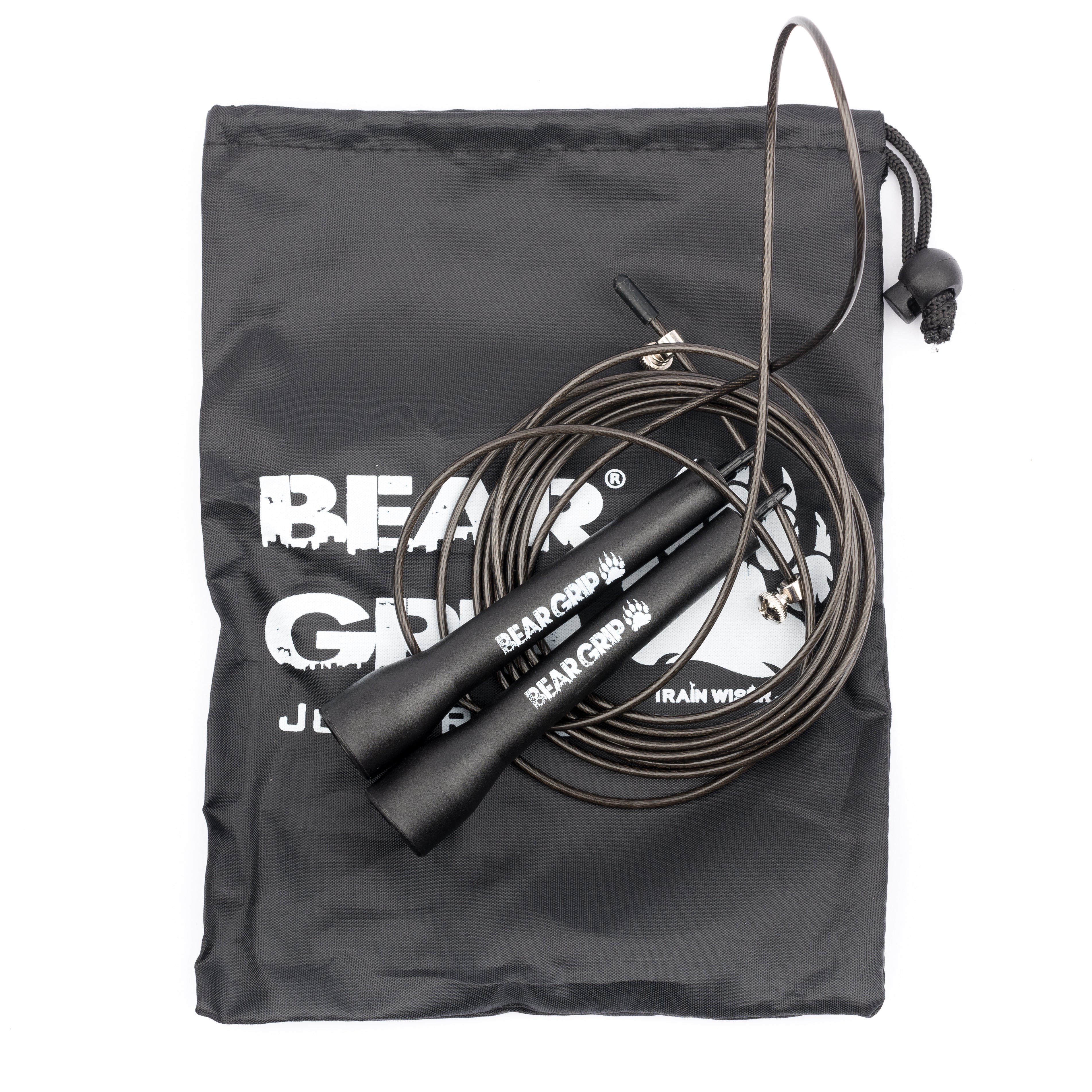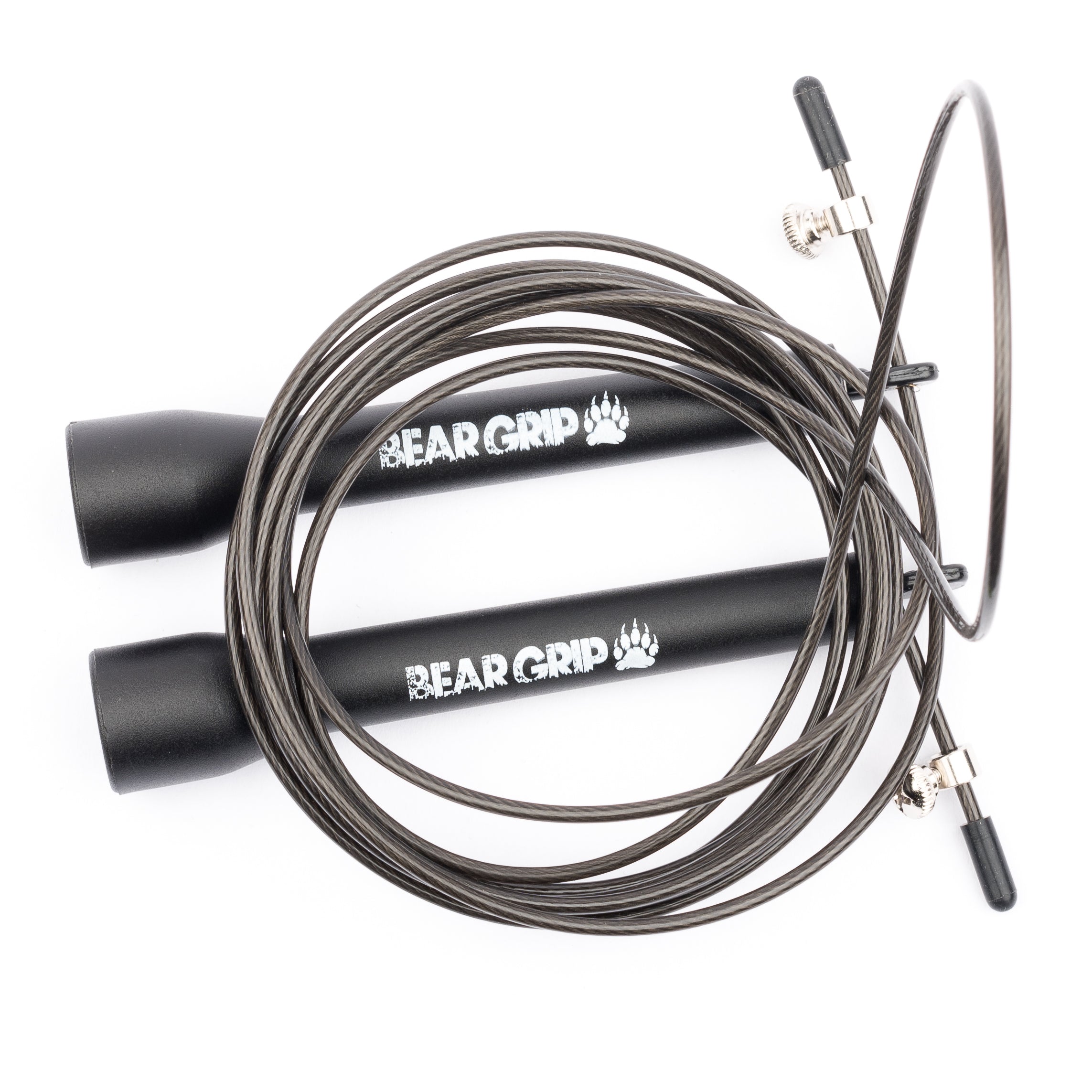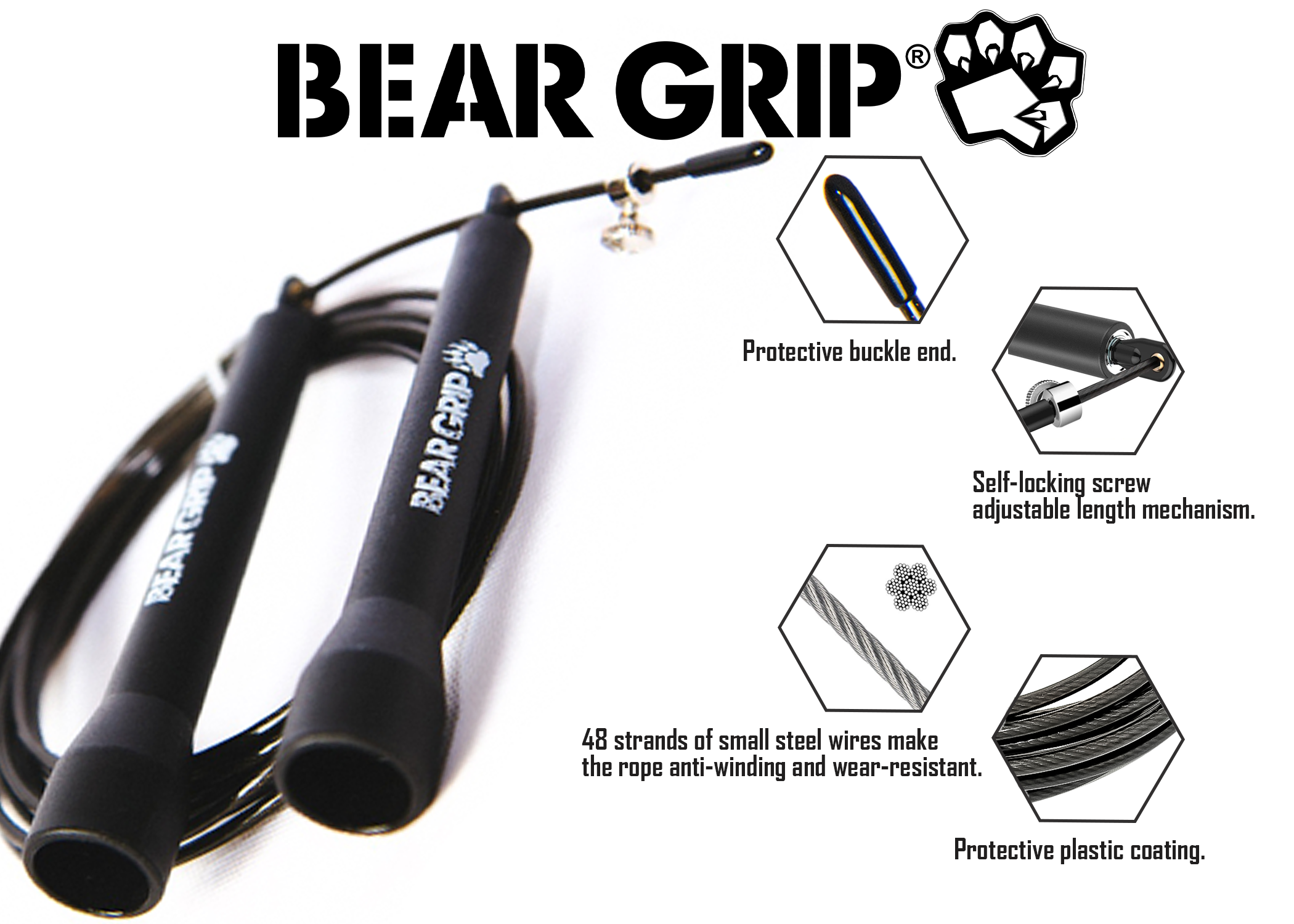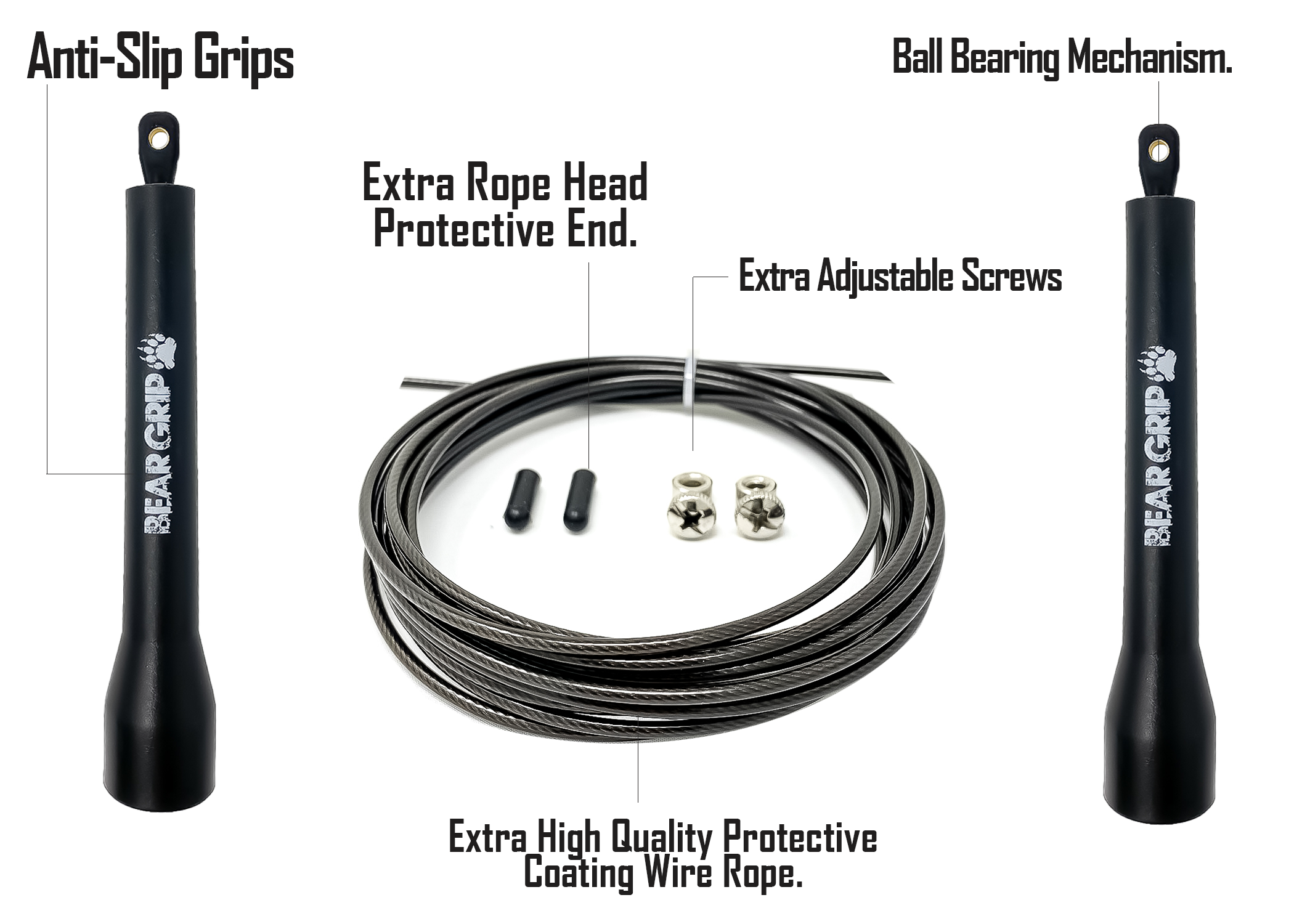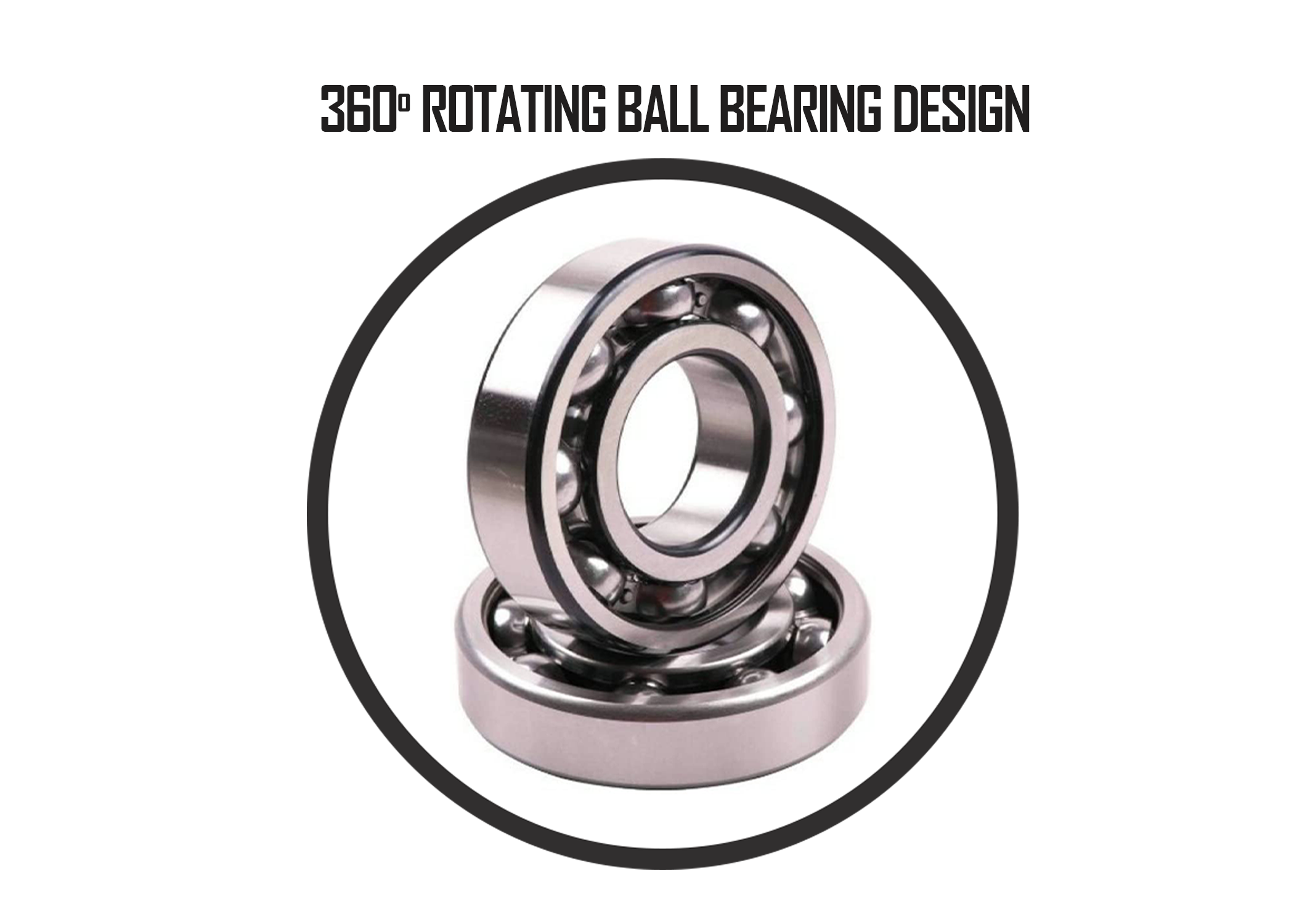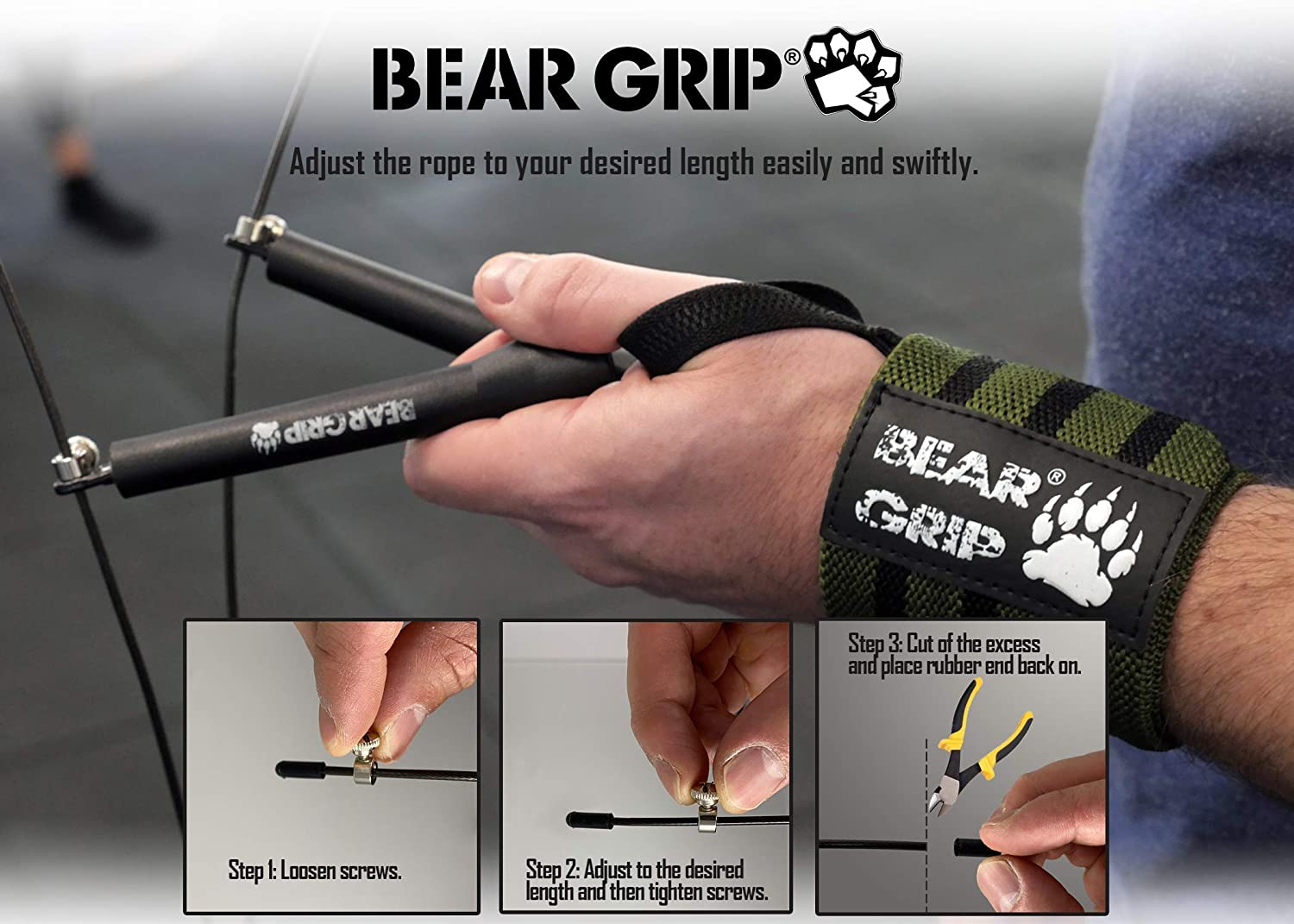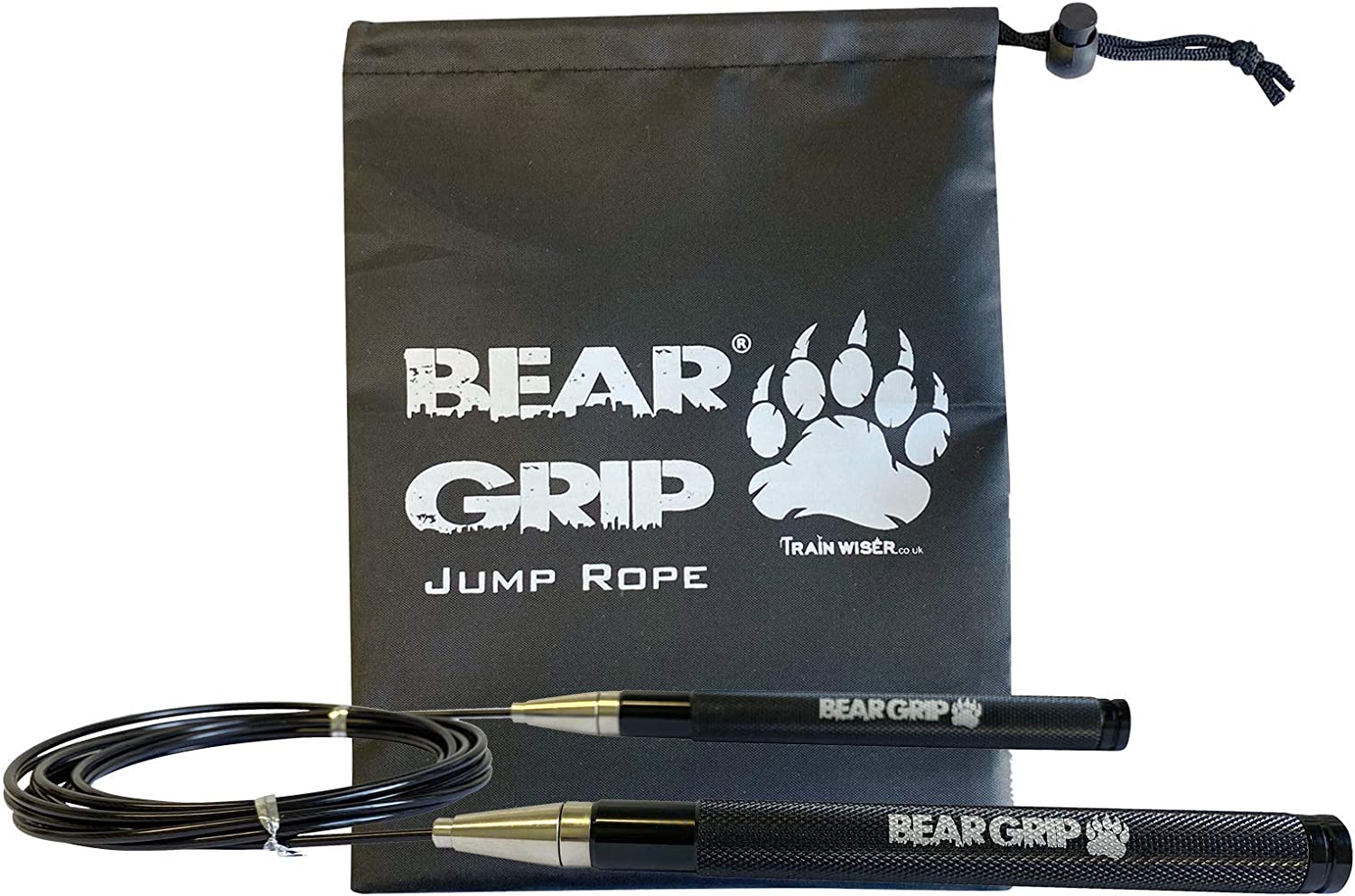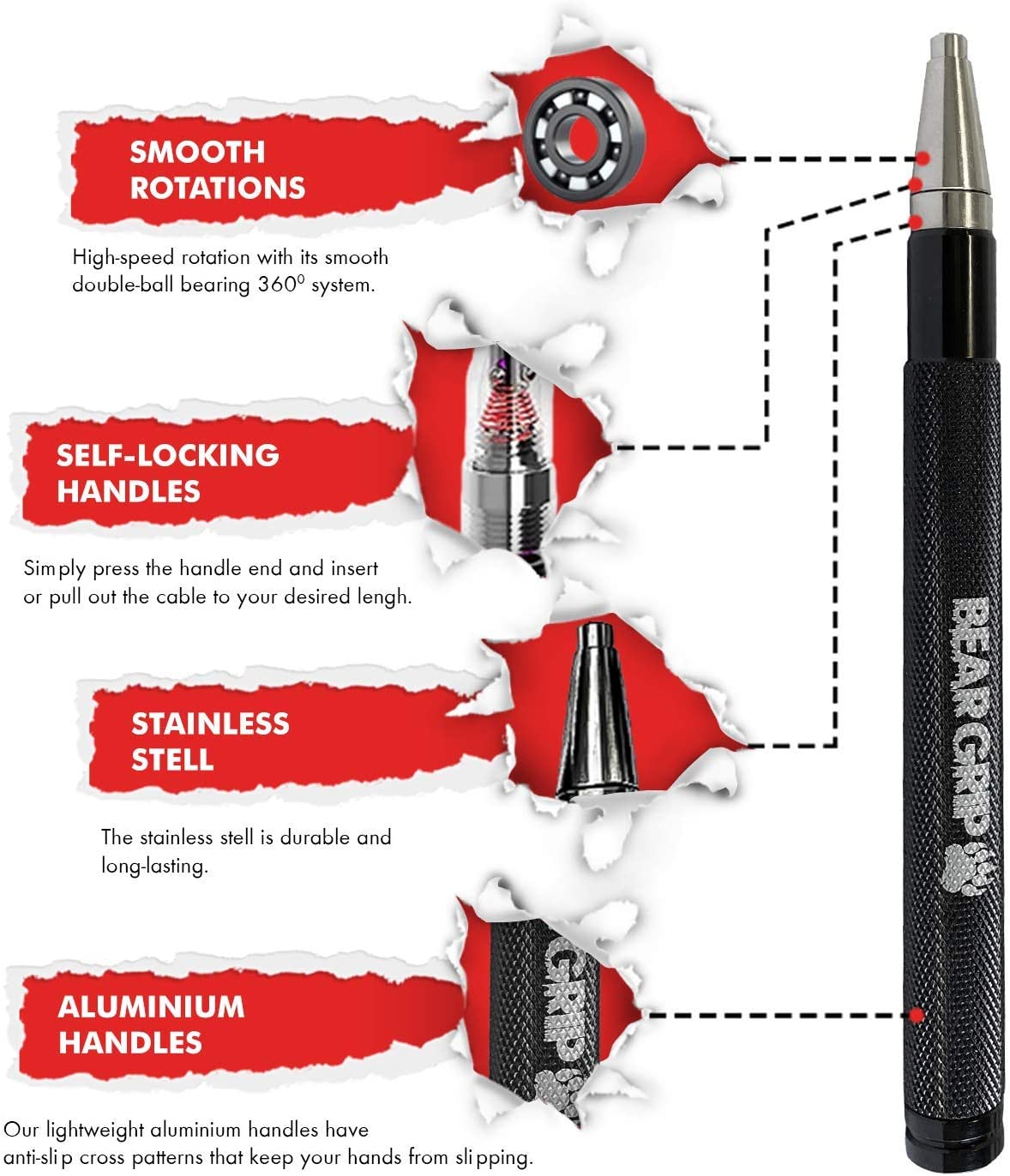 BEAR GRIP - ELITE SPEED SKIPPING ROPE FOR FITNESS CONDITIONING AND FAT LOSS
---
          SELF-LOCKING ALUMINIUM ANTI-SLIP HANDLES. CROSSFIT, MMA, BOXING, HIGH INTENSITY TRAINING (HIIT) AND DOUBLE UNDERS

For Cardio, Boxing, MMA, Crossfit with FREE GYM GEAR BAG - MONEY BACK GUARANTEE.
 STAINLESS-STEEL BALL-BEARING SPEED ROPES!! Allowing a smoother rotation mechanism for intense workouts Built to Last. All our products are premium made at an affordable price!! 

✅ MAXIMUM PERFORMANCE - This jump rope ensures flawless, high-speed rotation with its smooth double-ball bearing 360° system. It's perfect for those grueling Double Under. Skip like a pro!

✅ ERGONOMIC HANDLES - Our lightweight aluminum handles have anti-slip cross patterns that keep your hands from slipping. The improved grip allows you to take your performance to another level.

✅ ADJUSTABLE LENGTH - The wrong cable length can slow you down. Made to help you achieve your best performance, our speed rope can be adjusted to your most comfortable length. An extra cable is included!

✅ NO PLIERS OR SCREWS NEEDED - Built with a self-locking mechanism, our skip rope can be adjusted without tools. Simply press the handle end and insert or pull out the cable to your desired length.

✅ SATISFACTION GUARANTEED! - Known to be very responsive, our 24-hour customer service team is here to support you. Contact us if you encounter any issues, we are always happy to help!
Details: Looking to improve your skipping rope skills? You love how skipping rope helps you burn fat and build your endurance, especially because the movements involved are not as monotonous as running or jogging. Now you'd like to take your skipping skills to the next level, but your current jumping rope is just not giving you the intensity or flexibility you need to optimise your fitness. You need gear that will allow you to maximise your performance. The Skipping Rope by BEAR GRIP is designed around honing your agility, speed, and stamina. Equipped with a rapid ball bearing, our skipping rope prevents the twisting, winding, and bending common in other jumping ropes. It's made for speed and can make your transition from singles to doubles quite a breeze. The improved stability allows for a relaxed rotation. Our skipping rope is designed to help you reach optimal performance. Its 360°swivel bearing makes it the perfect tool for advanced athletes engaged in boxing, MMA, and cross-training. You can quickly adjust the cable to a length that's most comfortable for you. The anti-slip handle lets you take better control of each rotation and provides a natural grip, reducing risk of wrist strain. Made to be taken everywhere, our jumping rope is tangle-free and comes with a convenient carrying bag. With this portable fitness tool, you no longer have any excuse to miss a training session. You can use it practically anywhere and anytime. Here are more reasons to love our skipping rope: ✅ Ideal for cardio and conditioning exercises ✅ Professional grade ✅ Extremely durable ✅ Comes from a trusted brand that's been producing excellent fitness gear for 8 years It's time to reach your fullest potential! Add the Skipping Rope by BEAR GRIP to your basket TODAY!