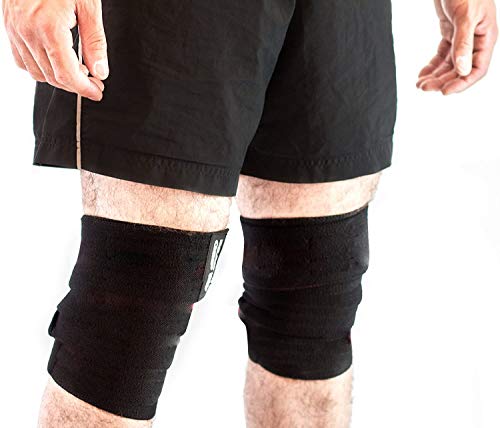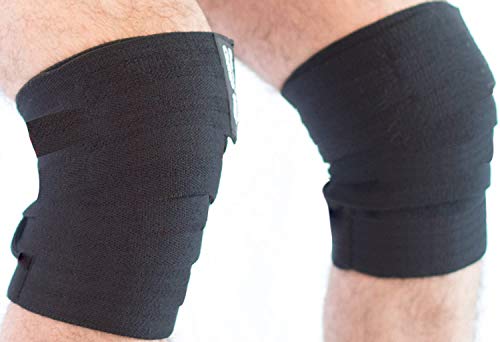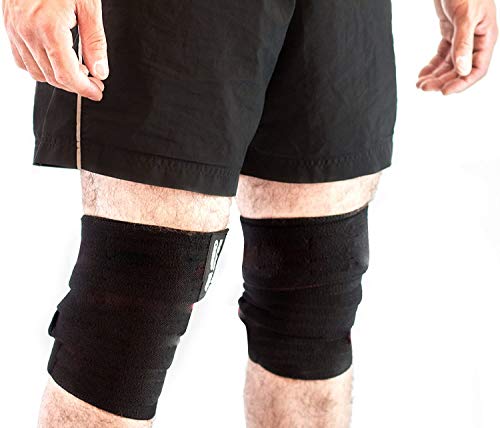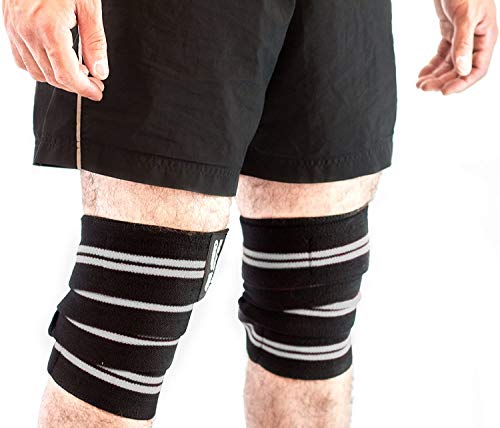 BEAR GRIP - Premium Heavy Duty Knee Wraps
---
Features:
🏋

-IMPROVE PERFORMANCE- BEAR GRIP knee wraps offer weightlifters protection from future injuries and damage. Also offering an increased blood flow to the knee, reduced pain, and increased recovery time. Knee wraps are designed to increase performance on your squat in a safe and relatively painless manner. Knee wraps increase support and help you bounce back up on the bottom of a deep squat better compression plus heat equates to better performance and reduced soreness.

🤾

COMPRESSION AND BLOOD FLOW -Knee wraps also add a valuable compression element that increases blood flow and reduces pain, not only during but also after performance. Compressed knee encourages blood flow through the blood vessels of the knee. Compression and blood flow will help in better recovery. Using a knee sleeve results in less pain and swelling during and after the performance. They offer insulated heat and compression.

🏋

STABILIZE THE KNEE- Knee sleeves do need to be worn for all weightlifting exercises not just to provide comfort and support but also to provide stability in every lift. Knee wraps not just provide the support necessary for performing squats, the snatch, or the clean and jerk but also reduces the risk for damage especially in times the knee is weak.

🤾

PREVENTS INJURY -Knee sleeves provide support in a way that reduces the trauma you experience during an intense workout. Knee wraps don't just provide support for your knees alone but also that's connected to them, including your ankles and hips. The compression from the knee sleeve helps in blood flow, which prevents swelling when you want to push harder.

🏋

REDUCTION OF BARBELL DISPLACEMENT- Knee sleeves are designed to protect the knee from future injury or risk of damage. This protection is especially important for knees put under great daily pressure running, jumping, and weightlifting. Suitable for the Gym, Crossfit Training, Weight Lifting, Powerlifting, Fitness, Strength Training, and Bodybuilding.
Details: 💪 ☝ STRONG PRODUCT OVERVIEW ☝ BEAR GRIP - Premium Heavy Duty Knee Wraps ★BEAR GRIP - Premium Heavy Duty Knee Wraps Elastic Knee Support & Compression - For Weightlifting, Powerlifting, Fitness, CrossFit WODs & Gym Workout - Knee Straps for Squats provide support and help hold the integral joints and muscles of the knees to give you that additional push you need to reach your lifting goals. The purpose of knee wraps is to protect the knees from future injury or risk of damage. Knee wraps do provide valuable compression, which helps to increase blood flow and reduces pain and swelling in the knee joint during and after a workout. Ultimately help you to recover quicker thus allowing you to perform better on a day-to-day basis. While knee sleeves do add warmth and compression, they also help the mechanics of a given movement by limiting patella movement, provide lateral stability. Since knee sleeves reduce pain and prevent injury, you'll be able to push yourself more, knowing you're protecting your joints and tissues. Enjoy the ability to move freely and easily because of reduced soreness and added safety. When heat is insulated around your joints, it keeps them warm and lubricated. When your joints are warm and lubricated, they can stretch and function at their optimal level. Knee wraps can boost your leg strength during squats, leg presses, or any other leg activity. Unlike other knee wraps, we've improved our design so that you can have peace of mind during your workout. Non-slip or rolling down Simply wrap to the desired compression and secure your fit. Ideal for heavy lifts and squats, cross-training, leg presses, and high intensity lifting. Bear Grip Knee Wraps are designed to enhance performance, provide safety to weight lifters, crossfitters and heavy lifters, and also help in pain management. Knee Wraps are mostly used in Weightlifting, Squats, Leg Presses, High-Intensity Training, Power-Lifting &Cross fit